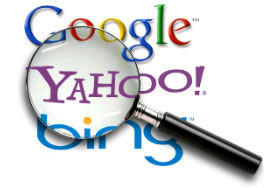 Digital Exploits can help you get results by registering your new or existing website with top search engines like Google, Yahoo, and Bing. If your current website is not getting found, we can fine tune your pages to improve your search engine ranking. Using proven tools and SEM methodologies, we will help you create a brand presence among the major search engines.
Google AdWords & Other Pay-Per-Click Advertising
Pay-per-click advertising, also called 'paid placement' advertising, lets you bid on your industry keywords and key phrases. You're charged only if someone clicks your ad, not when your ad is displayed. The bid amount you are willing to pay for each click-thru is called the cost-per-click. The more your bid, the higher your listing appears among the other paid listings. We can edit your ads, keywords, bid amount, and adjust your monthly budget until you get the results you want.